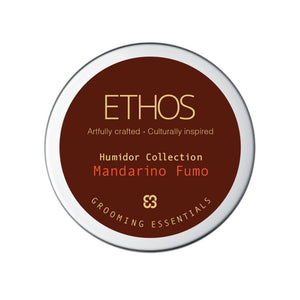 Mandarino Fumo F Base Shave Soap
Regular price
Sale price
$48.00
---
The Mandarino Fumo Aroma Blend is made up of 100% naturals other than the Leather Accord. This is a tobacco forward scent with a fruity opening that comes from the three different Mandarin essential oils: Red, Yellow and Green. For a natural scent, this has wonderful longevity, silage, and projection. It is the first Aroma Blend in the new Humidor Collection and I'm excited to release this in the new F Base shave soap. It is easy to work up a rich, dense lather that provides great slickness and protection. The soap is loaded with skin beneficial ingredients, not only addressing the epidermis layer of the skin, but also the dermis layer, improving your skin with continuous use.
Usage
ETHOS shave soaps are easy to lather, and about half an almond size of soap is recommended for a three pass shave if using a shaving bowl. You can easily load three passes worth of lather out of the jar in 20 to 30 seconds. The soap takes a good amount of water but is not extremely thirsty. I recommend not rinsing the face completely between passes, just add a quick splash of water, work it around and then lather up for your next pass. This method increases the slickness to a whole other level. I also suggest a lot of painting the lather on after the initial swirling of the brush to distribute the lather.
This soap can be used with any natural hair or synthetic shaving brush. Everyone has their own method, so have fun experimenting with this shave soap and find out what works best for you!
Ingredients
Aloe Vera Juice, Stearic Acid, Grass Fed Beef Tallow, Duck Fat, Organic Shea Butter, Castor Oil, Kokum Butter, Cocoa Butter, Organic Vegetable Glycerin, Potassium Stearate, Sheep Milk, Camel Milk, Sodium Hydroxide, Argan Oil, Marula Oil, Kukui Nut Oil, Grass Fed Bison Tallow, Organic Italian Red Mandarin Essential Oil, Organic Italian Yellow Mandarin Essential Oil, Italian Green Mandarin Essential Oil, Tobacco Absolute (Burly), Tobacco Absolute (Virginia), Labdanum Absolute, Natural Beaver Castoreum, Amber Essential Oil, Leather Accord, East Indian Sandalwood Essential Oil, EOS Complex, Allantoin, Oat Amino Acids, Silk Amino Acids, Soy/Rice Peptides, Sorbitol, Organic Vitamin E Oil, Xanthan Gum, Lanolin, Organic Guava Fruit Powder Extract, Lonicera Capritolin (Natural Preservative) Calendula Extract, Aloe Vera Extract, Comfrey Extract, Milk Thistle Extract.
FOR EXTERNAL USE ONLY: If irritation occurs discontinue use immediately.
Handmade in the USA