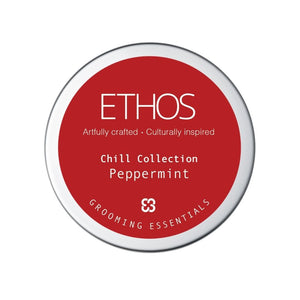 Peppermint F Base Shave Soap
Regular price
Sale price
$39.50
---
4.5 oz / 133 ml
Peppermint Shave Soap F Base uses 100% Pure Organic Peppermint Essential Oil for the awaking and invigorating scent and the refreshing chilling feeling it provides. I find that Peppermint Oil evokes many pleasant memories that take me back to my youth. I hope it brings back some good memories for you too. Like most ETHOS Grooming Essential products, the soap contains our proprietary EOS Complex, which means Earth • Ocean • Science. This unique blend of 36 luxurious, exotic, and beneficial skincare ingredients will enhance the skin's overall condition and feel with continuous use.
Usage
Ethos Shave Soaps are easy to whip up into a rich creamy yogurt like lather that provides great protection, slickness and post shave. Use about a half to a whole almond size of Shave soap for three to four passes. Start out with a wet or well soaked shave brush, shake out most of the water and begin to build your lather one step at a time by adding a few drops of water as needed until the desired consistency is achieved.
Our shave soaps work well with all types of shaving brushes.
If you like to use a shaving bowl to create your lather, scoop out the recommended amount and smash it in the center of the bowl. Then begin to swirl your brush. Add a few drops of water as needed until you build a nice rich creamy lather.
You may prefer to load out of the jar, but we recommend you turn the jar upside down and swirl your brush to load it. This prevents getting too much water into the soap puck. We believe adding too much water to any ETHOS shave soap jar is counterproductive to our curing process, where we eliminate as much moisture as possible.
Loading time is approximately 30 seconds. Apply the lather to a damp face with a few painting strokes and then begin swirling the lather around your face. Finish by painting WTG, XTG, and ATG until you get a nice non-translucent dense coating of rich, creamy lather and begin your shave.
Ingredients
Aloe Vera Juice, Stearic Acid, Grass Fed Beef Tallow, Duck Fat, Organic Shea Butter, Castor Oil, Kokum Butter, Cocoa Butter, Organic Glycerin, Potassium Stearate, Sheep Milk, Camel Milk, Sodium Hydroxide, Grass Fed Bison Tallow, Argan Oil, Apricot Kernel Oil, Kukui Nut Oil, Organic Japanese Peppermint Essential Oil, Peppermint Hydrosol, EOS Complex, Allantoin, Oat Amino Acids, Silk Amino Acids, Soy/Rice Peptides, Sorbitol, Organic Vitamin E Oil, Sodium Lactate, Xanthan Gum, Lanolin, Lonicera Capritolin (Natural Preservative), Calendula Extract, Aloe Vera Extract, Comfrey Extract, Milk Thistle Extract.
FOR EXTERNAL USE ONLY: If Irritation Occurs Discontinue Use Immediately.
Handmade in USA